BTU Newsletter
In This Issue
• Empowering First Responders
• Simple Idea, Brilliant Results. Eliminates non-billable Service Calls related to power interruptions or extended outages
• Can your Emergency Operations Procedures Deploy during an extended absence of electricity?
BTU Research Products & Solutions
Schedule an on-site Product Demonstration
866-268-9479 x 6
Email: info@bturesearch.com
Safe City, Community, Workplace, Buildings
A rapidly expanding vertical that began as, Smart City, has now evolved into Safe City and Safe Community. These sectors encompass Mass Transit and global monitoring of all things IoT. Requisite sensors, relays, communication mediums, gunshot detection, predictive prevention and monitored video that are not powered constantly, is neither smart nor safe. Occupants, residents and First Responders are immediately vulnerable when a power interruption or power outage occurs. Exposure that is entirely, avoidable with BTU as part of the design.
Systems integral to an effective Emergency Operations Procedure, should not be without a constant, efficient secondary power source, local to the device. Affords First Responders the ability to assess threats and assign remedy from a safe position.
Continuous PoE empowers First Responders with networks are always on…even when grid power isn't.
New Technology Eliminates Non-Billable Service Calls
The World's Only PoE Injector with Integrated, Ethernet-level UPS. Simple Idea, Brilliant Results
The Brownout Buddy recognizes AC power disruptions, automatically switching the power source to an internal Lithium Ion Cobalt battery pack. Switching between power sources is instantaneous and glitch free, providing uninterrupted power where "always-on" operation is essential. IoT devices greatly benefit from this all-in-one, primary and secondary power source equipment (PSE).
Standard PoE injectors supply efficient, cost effective power to Ethernet network devices.
The Brownout Buddy delivers the same, with the additional advantage of internal UPS for an instantaneous and continuous supply of Ethernet power. This device flexibility provides a redundant power platform for networking hardware. May be introduced at the Edge, or Head-End.
Other benefits include: *Cost effective means of insuring Continuous PoE *Cost and space savings for the Client *Simplified installation for new Projects *Retrofits become more robust when replacing standard PoE injectors Continuous PoE *Operates during a power outage for desired run-time to meet Client's needs *Recharges when utility power is restored. Alternative energy sources such as solar and wind turbines may also be used to recharge *Eliminates non-billable Service Calls related to power interruptions or extended outages *Avoidable down time decreases. Customer retention increases.
When their low-voltage systems stay online, the Client has no reason to contact your competition!
4 Plus 1 Port Switch Delivers Continuous PoE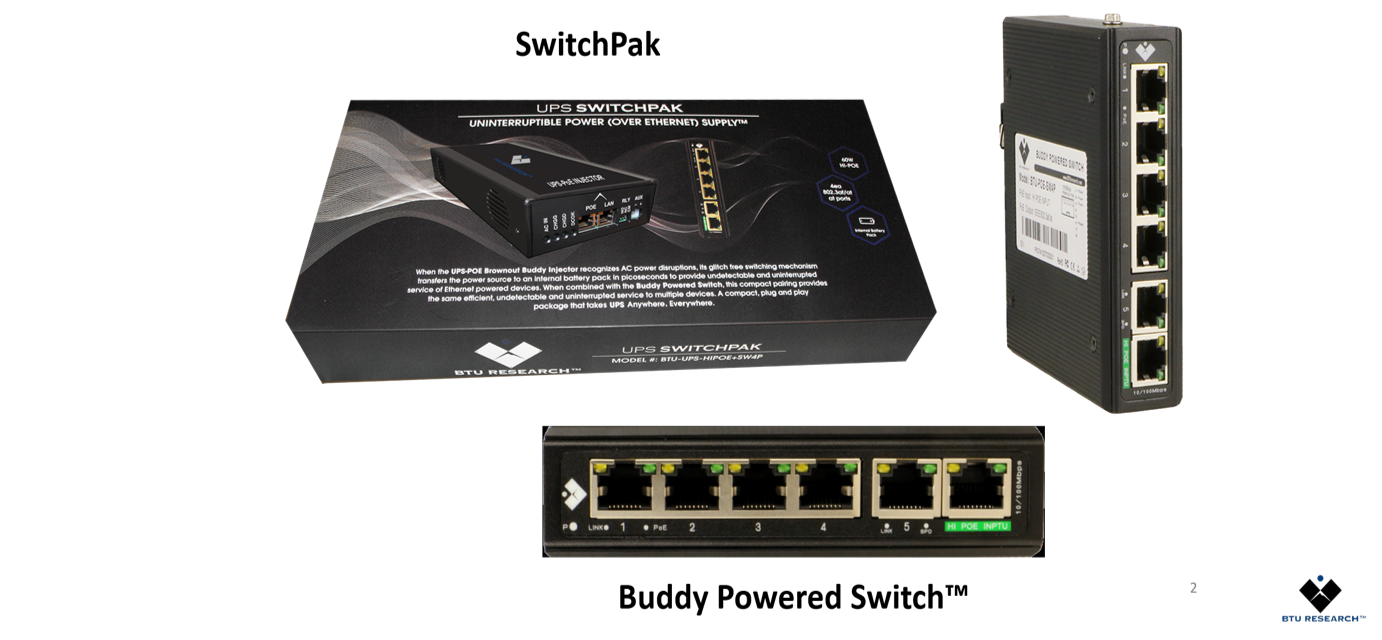 Intended for use with other BTU Products, the Buddy Powered Switch has 4 IEEE802.3af/at ports to power IP cameras, radios, antennas and other ethernet-powered devices. Features include –
*4 output ports providing 55W total power, 1 HIPOE input port, 1 adaptive port *Power ports support both IEEE802.3af and IEEE802.3at standards *Supports IEEE802.3x flow control for Full-duplex Mode and back pressure for Half-Duplex Mode *Auto-Negotiation for Full-duplex Mode and Half-Duplex Mode *LED indicators *Din Rail mounting options *Housing is IP40 rated *Continuous PoE may be introduced mid-span, end-span or at point-of-use.
Devices connected to BTU do not experience downtime, reboots, off line or trouble conditions related to power interruptions, when they are powered 'constantly'.
Additional system operation benefits are realized by the introduction of continuous voltage regulation delivered by the Buddy Powered Switch. Accepts POE input power of 48V to 57V provided by BTU's PSEs.
Sold separately or combined with Brownout Buddy in one package by Global Distributors as a, "SwitchPak".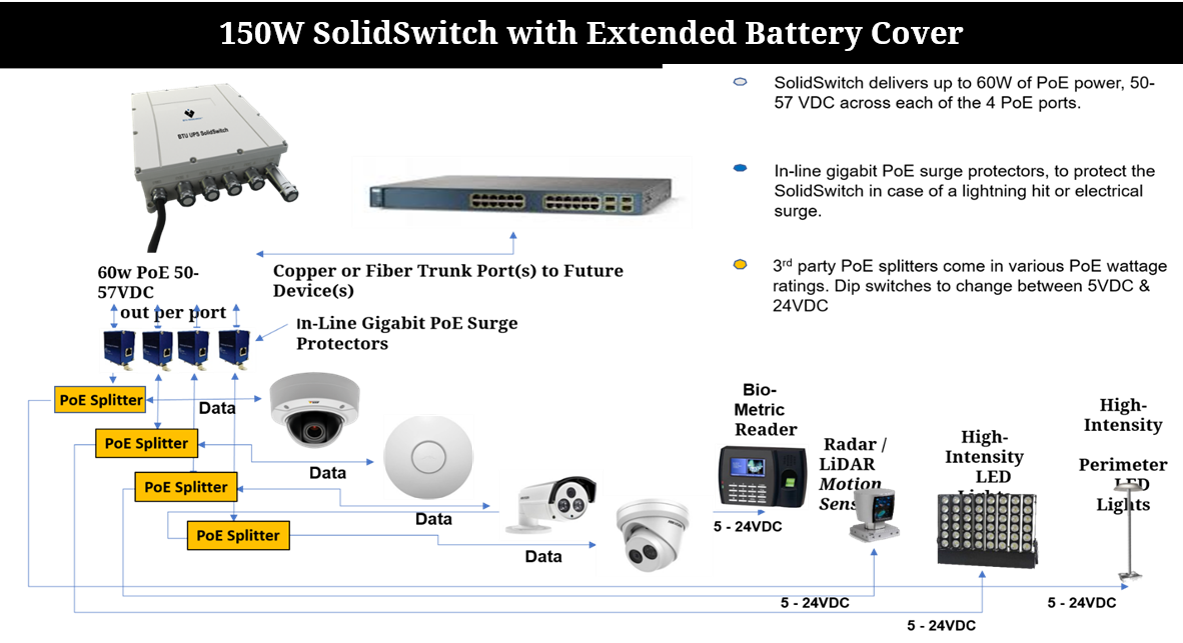 Continuous PoE affords meaningful change in Security, Life Safety & Power Solution Design. Prior to an emergency event, we could know that all PoE devices tasked with Security/Life Safety roles, are not fully functional…But we don't.
Cars tell us when a tire should be checked. Something is not functioning to standards. A light and or tone, tells the driver that an important event may be imminent, so that he/she can take appropriate, preemptive action.
BTU Products are equipped with a Relay Output connection to notify building occupants when Facial Recognition, Aggression Detection, Door Controllers, Access Control, Paging Speakers, IP Cameras, VOIP, Wireless Access Points are not fully operational.
These PoE devices comprise systems that are essential to School and Work Place Safety.
Those responsible for security & safety are obliged to provide a means to communicate "audible, intelligible, Emergency Messaging, immediately and without delay". Numerous PoE devices may be instrumental in doing so. This is sufficient motivation to insure a constant primary and secondary power source is made available to all such devices.
Network backup: SolidSwitch provides a network switch with built-in UPS and full routing/switching functions, all in the same device.
Dramatically Increased Runtimes: BTU's innovative approach to using DC standby power injection delivers significantly longer run-times during a loss of grid power. With advanced power management, systems can be designed to operate for days not minutes, without the presence of electricity.
BTU Research, LLC ©Copyright (2019) All Rights Reserved