When does a Security Device become a Life Safety device?
BTU was interviewed for a Podcast earlier this month. The topic is, Security System Survivability in Schools. The content delves into facts surrounding massive code books related to Life Safety System design, although there are no such requirements for Security Systems. A device deployed as a Security device becomes essential to Life Safety during an emergency situation. First Responders depend on IP cameras, microphones, speakers, emergency call boxes, etc., when there is a crisis on campus, such as an active shooter, severe weather, chemical spill, and so on. Click this link to hear more on the subject and the importance of Continuous PoE for Security Products / Systems in our Nation's Schools via LinkedIn: https://www.linkedin.com/feed/update/urn:li:activity:6620053505778466817/
The Podcast may also be heard on www.imdcast.com, Apple Podcast, Spotify and Stitcher. Please revisit the, "In My Defense Podcast with RL" in February, as BTU's Subject Matter Experts will participate in an interview on the topic of 5G, Wi-Fi 6 and Wi-Fi 6E and their impact on the future of First Responder Networks and Critical Infrastructure.

New Technology Partner – Code Blue
Code Blue recognizes that their Products only perform to specification standards, when connected to a constant, uninterrupted source of Ethernet Power. Likewise, they embrace the notion that as long as their equipment does not go offline, the Client has no reason to contact the Competition. Code Blue's fine Products serve an integral role in Emergency Communications and Crisis Management wherever they are deployed. Continuous PoE insures they function normally and without interruption, even during extended grid power outages.
Safety has always been the No. 1 priority for Code Blue Corporation (www.codeblue.com). Located in Holland, Michigan, the industry pioneering manufacturer of emergency communication solutions provides assistance to people by handcrafting products that are reliable and accessible. From their iconic blue light phone pedestals and award-winning software, they help people feel safe by offering durable and visible security solutions that provide help at the touch of a button. This assists First Responders before, during and after an incident with a complete end-to-end system that utilizes alerting, managing, archiving and responding technology. A list of other BTU Technology Partners may be seen here – https://bturesearch.com/technology-partners-2/

Recent Health Care and Military Deployments with BTU
Continuous PoE Technology from BTU has recently been selected and deployed in various Military Bases and Health Care environments. A Design Specification was published for several Military Installations requiring an "8 hour off-grid run-time". Cameras will record and store video at the camera for a minimum of 8 hours during the absence of electricity. Outdated solutions would require enormous weatherproof enclosures to house numerous lead acid batteries, all requiring routine maintenance, inspection, replacement and disposal. BTU met the specification using SolidSwitch. IP68/NEMA TS2 rated, so no additional housing required. The selected model is approximately 9" X 12" X 5" and Made with Pride in the USA.
Similarly, BTU has been the Product of choice for Health Care applications to meet this Department of Health requirement, as relates to IP Video Design criteria for Medical Cannabis Production, Transportation and Distribution: "All video surveillance equipment shall have sufficient battery backup to support a minimum of four hours of recording in the event of a power outage". And "Video surveillance systems must be equipped with a failure notification system that provides prompt notification to the Licensee" The Auxiliary Port seen below on the Brownout Buddy, is designed to accomplish such requirements. The Brownout Buddy is a small form factor PoE Injector with internal Lithium Ion battery pack. Any device connected to BTU becomes a battery powered device.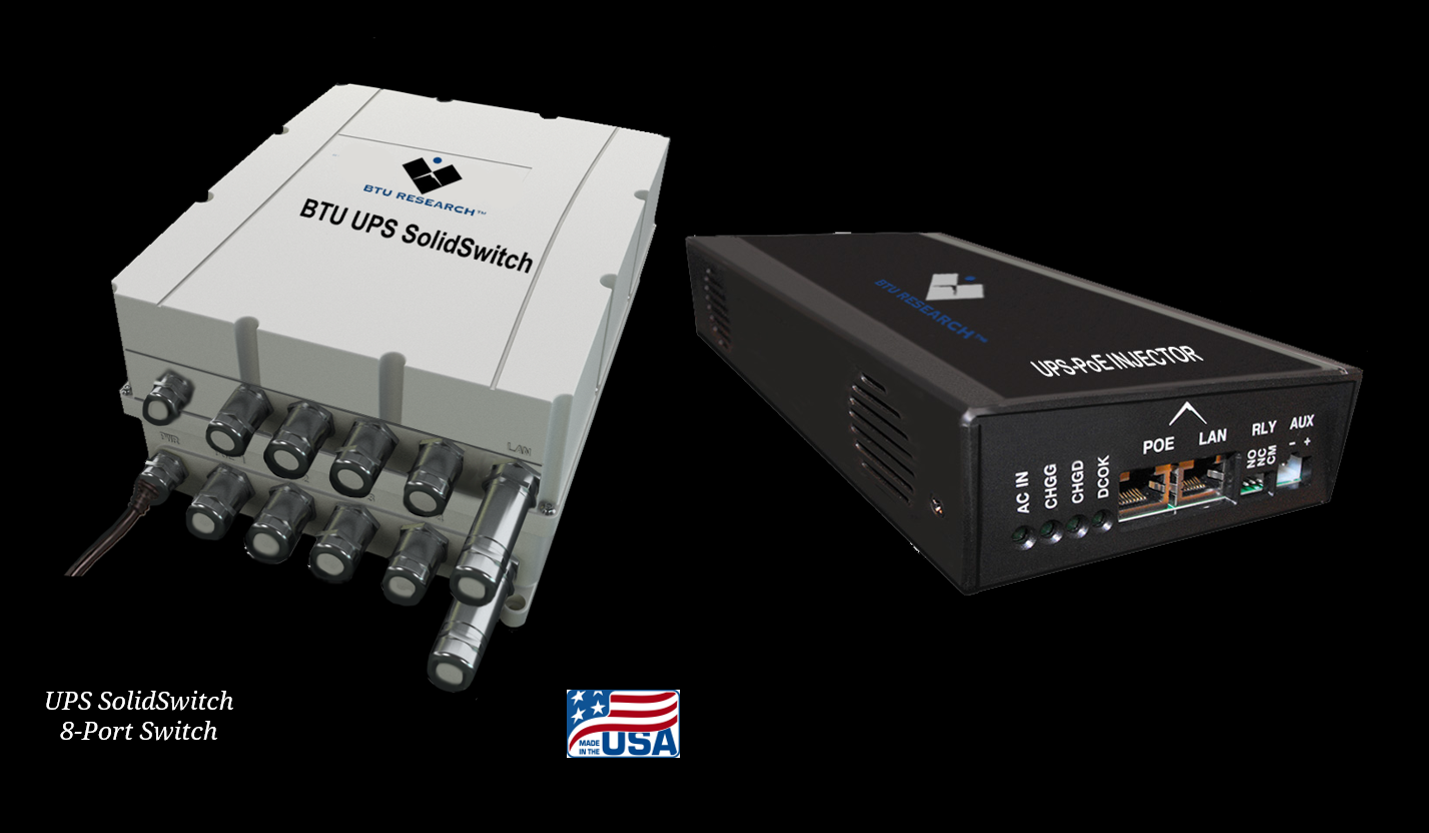 BTU Research, LLC ©Copyright (2019) All Rights Reserved