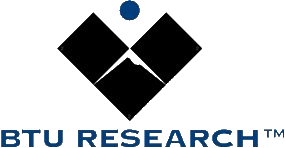 Honeywell Emerick, PA Plant Project
November of 2015, Honeywell Project Manager Miloslav Kajanek selects BTU Research 24V-38W Brownout Buddy POE Injectors to power and provide an uninterruptible power supply for a wireless video surveillance project at a Honeywell owned facility in Emerick, PA. Honeywell elected to employ a wireless delivery mechanism because of the distances involved. Miloslav took full advantage of the BTU Technology utilizing a simple design on the back of a napkin.

Miloslav's napkin drawing that launched the BTU "Brownout Buddy"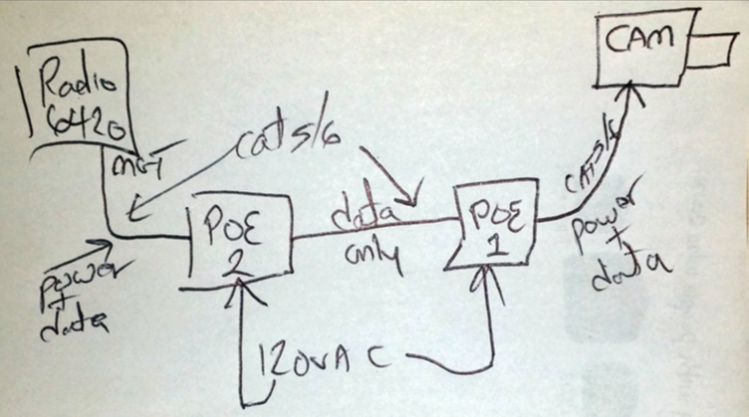 Equipment Selected for the Project
TropOS 6420 Mesh Router
The TropOS 6420 outdoor mesh router provides a cost-effective, easy to deploy, high- performance networking solution for outdoor environments.
The small, lightweight form factor of this mesh router is ideal for deployments where aesthetics and weight are part of the mounting asset equation. The TropOS 6420 mesh router is a dual-band unit with 2.4 GHz and 5 GHz MIMO radios that support meshing and client connectivity in both bands. The TropOS 6420 can be ordered with two Ethernet ports that can be used to inject capacity into the network and attach client devices such as video cameras or with one Ethernet port that can be used to inject capacity into the network plus a serial (RS-232/RS-485) interface. The Brownout Buddy served as power source, the redundant or backup power and the network connection between the radios and the cameras.
Axis Communications Q-3505-VE Camera
The fixed-dome design of AXIS Q3505-VE Mk II makes installation easy and costeffective. And there are useful aids like level assistant, digital leveling and auto rotation available. AXIS Q3505-VE Mk II also features versatile cable management with space for a service loop and optional connection to any kind of conduit. There's a bracket included for mounting on junction boxes or directly on walls or ceilings, and there are optional accessories for recessed mounting or mounting on pendants. In addition, remote zoom and focus capabilities provide convenient zooming and focusing over the network, eliminating the need for hands-on fine-tuning.
BTU Research UPS-POE-24V-38W Injector "Brownout Buddy"
The compact, easily deployable POE injector provides an "Uninterruptible Power (over Ethernet) Supply"™. The Brownout Buddy for this application was a 24V/38W passive POE injector with 55Whrs of emergency power provided by an internal Li-Ion battery pack. The device is designed to perform the functions of a conventional injector while ensuring a reliable, consistent, power supply to edge devices. A state of the art, compact, easily installed, cost effective solution for engineers and integrators to bring UPS anywhere, for uninterrupted power everywhere The Buddies were used as the main power source and UPS, providing 5 hours of emergency back-up for all cameras and the radios.
July 2017 – Honeywell Project Manager Miloslav "Slavo" Kajanek reported that since the commissioning of the camera surveillance equipment in March 2016 at the "River to Plant – Advantech Facility" has been an outstanding success with zero downtime over the 16 month period of operation. The success of the project is attributed to the fourteen Brownout Buddies that have performed flawlessly to power the Axis Communication Q3505-VE cameras and 6420 Tropos wireless radios. "There's no doubt this equipment provides an added dimension to network infrastructure and
we recommend the use of Brownout Buddies where consistent power to edge devices is needed. We will use them time and again on our upcoming projects."
Miloslav Kajanek
Project Manager/Honeywell USA