_____________________________________
Up to 240W of PoE UPS output and up to 1400Wh of lithium ion emergency battery backup.
_____________________________________
Full Layer 3 capabilities on the Edge with an elegant user interface. GUI control of ports, battery status and more.
_____________________________________
Rugged die cast aluminum enclosure capable of operating when fully submersed.
_____________________________________
A fully accessible via SNMP V2.3/V3 or Web interface Command Post.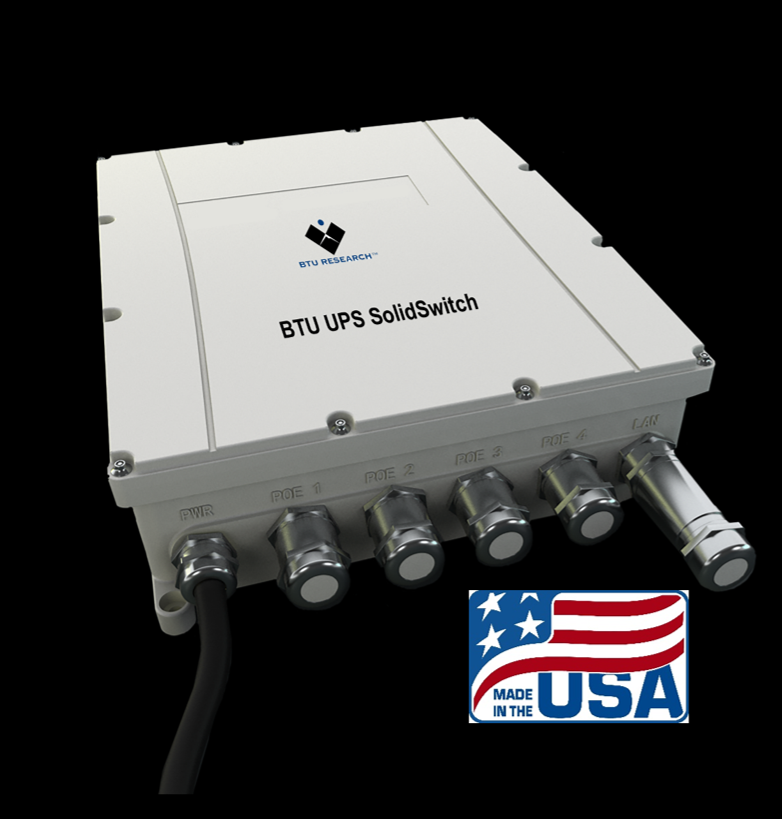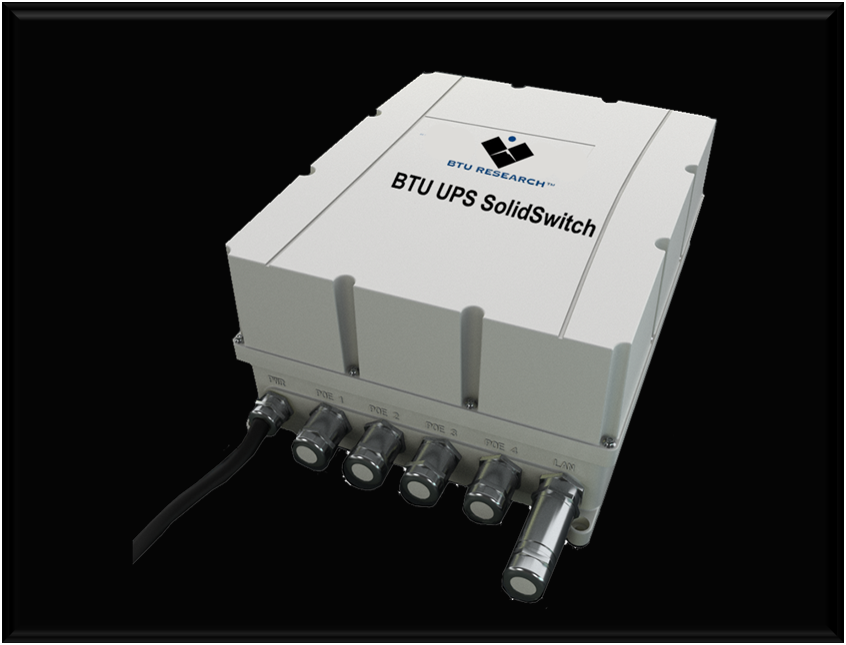 240W-1400Wh Extended Run Mode
(240W Available Q4 2020)

Powerful
UPS SolidSwitch is a powerful 240W 4+1 Port, outdoor PoE switch designed to perform the functions of a midspan switch combined with an inclusive UPS and internal power source to provide hours of emergency back-up. Power of up to 60W is available to all SolidSwitch POE ports.
Up to
240W
Total Power Output
Up to
60W
Power Output Per Port
Up to
90-264VAC 50/60Hz
Power Input
Up to
1400Wh
Standby Power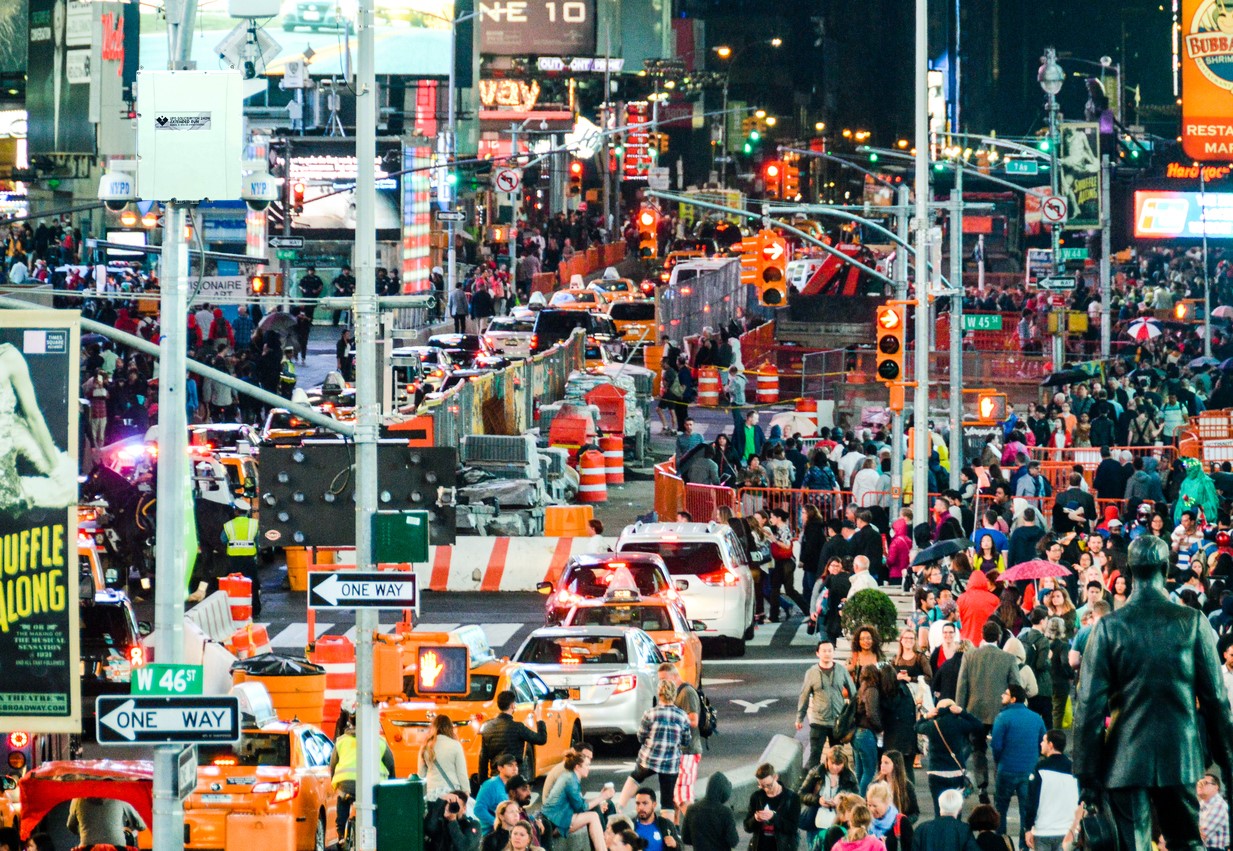 Innovative
UPS SolidSwitch is made possible by BTU's "Uninterruptible Power (over Ethernet) Supply"™. A disruptive technology that ensures a reliable and consistent power connection through a switching mechanism to an internal battery source, operating so efficiently, the transition is undetectable. In the creation of UPS SolidSwitch, we intended to add a new dimension to network infrastructure and were uncompromising it is design and engineering. In doing so we created a new standard to deliver what we believe is the most versatile, outdoor POE Switch, bringing UPS anywhere to ensure always on power everywhere.
Rugged
Housed in a die cast metal enclosure, built to be fully submersible, its compact profile is made possible by the use of advanced PCB mounted 500W power supplies. The space, traditionally used in conventional switches, to house large, open framed AC/DC power supplies makes way for a powerful 350Wh Li-Ion Power Pack. A specially designed "Extended Runtime Cover" is available to house up to 3 additional, equally powerful packs to increase emergency supply up to 1400Wh.

Smart
At initial power up, the SolidSwitch microprocessor takes inventory of the internal emergency power sources and estimates the energy levels in each of the available resources. This estimate of each resource will be updated when the known status is achieved and will be re-evaluated every 1 second to sense changes and make adjustments to the available inventory.
The switching from an AC power source to the main backup battery pack is controlled by hardware, eliminating CPU latency and ensuring glitch free operation. Management of auxiliary power packs is handled by a microprocessor, which powers all ports until the battery resources are completely exhausted.
SolidSwitch provides the network capability to shut down selected devices or to program the orderly shutdown of devices when resources have been depleted to predetermined levels. Battery maintenance is also programmed into the device to ensure PowerPak life is maximized.
The SolidSwitch Command Post is a user interface designed to simplify the task of the system administrator.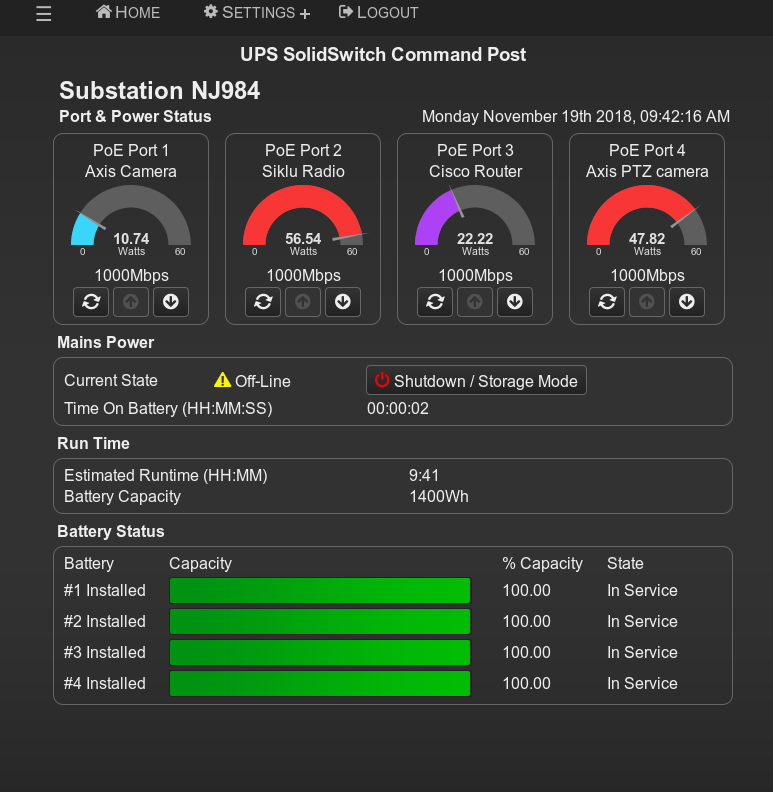 Features of Layer Three Managed UPS SolidSwitch
ProTool
ProTool is an all-inclusive, uniquely intuitive web based configuration and management tool with timed restart capabilities to ensure permanent changes are effected unmistakably. Instant PoE monitoring and controls report exact per port power consumption while simply enabling power recycling to edge devices on the fly. The sophisticated on board UPS and emergency backup is fully monitored twice per second to access real time mains power status, PowerPak charge status, capacity and estimated emergency runtime. Simplified management is provided through preconfigured VLAN tables and individual port membership.

Authentication
Management authentication begins on the local device database and may be extended to remote authentication sources (AAA) by use of remote authentication extensions in the switch. This is simply facilitated through the configuration of the applicable settings for the extension type desired and then enabling that extension. Included extensions – TACACS and Radius.
Network
► VLAN table management across all ports is used for VLAN membership and VLAN trunking on the uplink.
► Permanent VLAN (PVLAN) for all ports is used for tagging ingress traffic.
► Renumbering of the management interface is made possible with attachment to 1 of 4094 active VLANS if so required.
► 802.1X port-by-port basis (wired ports)
Management Services
► SNMP V3 Support with SHA/MD5 AES/DES encryption options
► NTP with support for local time
► Radius
► TACACS+
Integrated Switch Features
► Full VLAN and QoS support
► Fast Link-up option to significantly reduce link-up time
► Auto-negotiation and Auto-MDI/MDI-X support
► 1000BASE-T/100BASE-TX/10BASE-Te IEEE 802.3 (Wired ports)
► 1000BASE-T/1000BASE-X/1000BASE-SX/1000BASE-LX (SFP)
► MIB counters (34 per port) for fully compliant statistics gathering
► IEEE 802.1X access control (Port and MAC address based)
► IGMP v1/v2/v3 snooping for multicast packet filtering
► IPv6 multicast listener discovery (MLD) snooping
► IPv4/IPv6 QoS support, QoS/CoS packet prioritization
► 802.1p QoS packet classification with 4 priority queues
► Broadcast storm protection
► Four priority queues with dynamic packet mapping for:
► IEEE 802.1p
► IPv4 DIFFSERV
► IPv6 Traffic Class
► MAC filtering function to filter/forward unknown uni-cast, multicast and VLAN packets
► Jumbo packet support up to 9000 bytes (configurable)
► Port mirroring/monitoring/sniffing with ingress and/or egress traffic to any port
Want to learn more about the SolidSwitch?
BROWNOUT BUDDY™ UPS-POE INJECTOR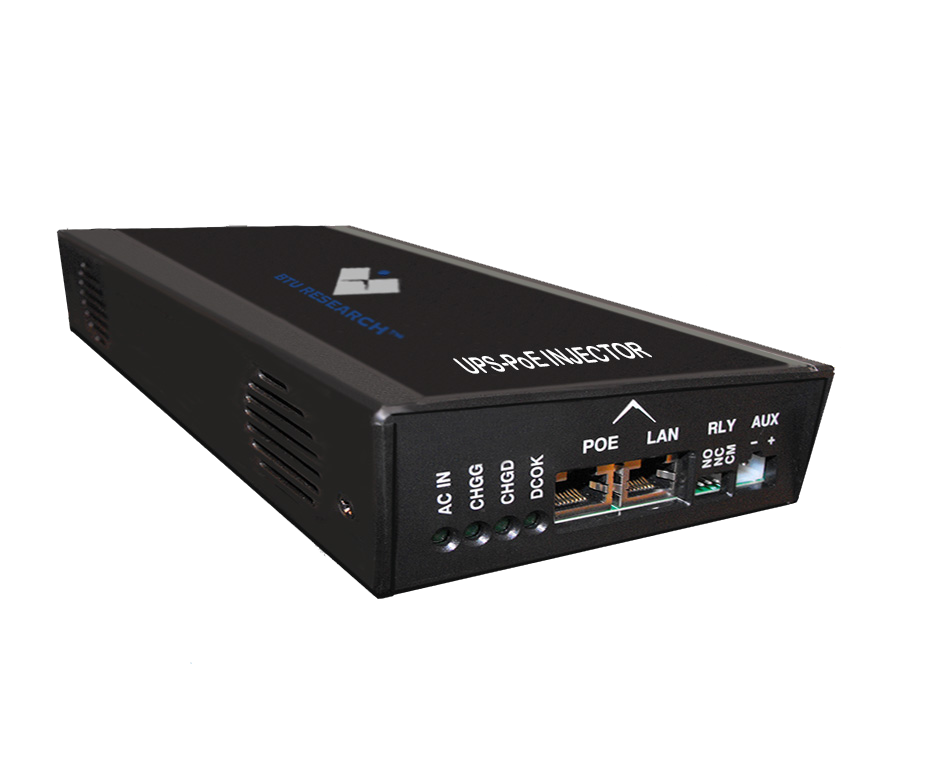 The UPS-PoE Injector recognizes AC and PSE power disruptions and automatically switches the power source to an internal battery pack. Switching between power sources is instantaneous and glitch free, providing smooth uninterrupted power system operations where "always on" operating is mission critical. All POE enabled devices including, wireless radios, surveillance cameras, RFID's, sensors and controls can greatly benefit from this power source and backup all-in-one unit!
Product Model: BTU-UPS-UPOE 60W-G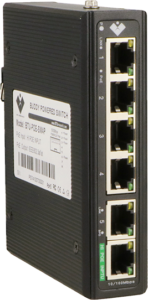 Just as standard PoE switches have supplied efficient and cost effective power to Ethernet network devices, the UPS-PoE-Switch delivers the same efficient and cost effective power together with an internal UPS for an instantaneous and continuous supply of power. This device flexibility provides a solid redundant power platform for networking hardware regardless of the remoteness of the installation.
Product Model: BTU-POE-SW4P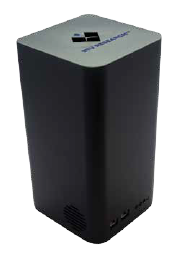 The Auxiliary Power Capsule is a 350Wh Li-Ion battery pack that connects to the Brownout Buddy's AUX port to increase the Buddy's emergency back-up by 5 times to 435Wh. Additional capsules can be daisy chained together to provide the desired back-up for specific applications. These compact Li-Ion battery packs are din rail mountable and can be positioned along side the din rail mountable Brownout Buddy and Buddy Powered Switch to provide continuous operation of multiple Ethernet powered devices. The capsules will recharge when utility power is restored.

GIGABIT POE SURGE PROTECTOR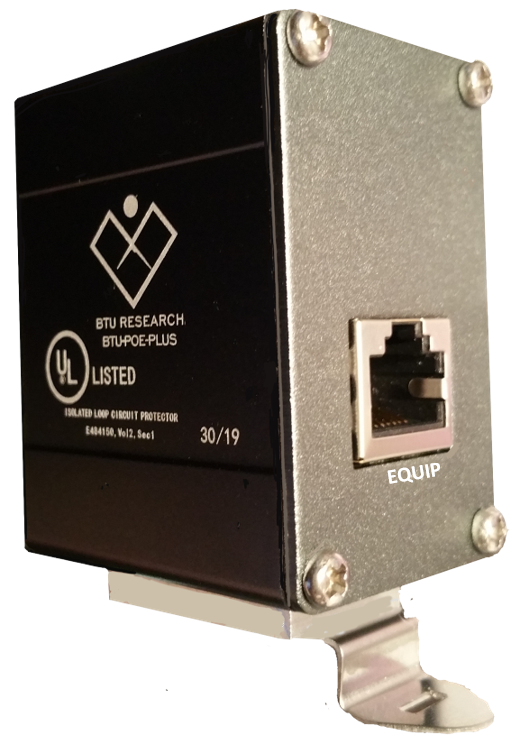 The BTU-POE-PLUS model is also a UL497B Listed SPD designed to protect sensitive electronic equipment connected to a high wattage POE PLUS network from transient over-voltages. Typically this device is deployed in IEEE 802.3bt or POE+ applications with full duplex power solutions, i.e., power on all four (4) pairs. This device can pass up to 6Gbps of data transmission and are housed in a shielded enclosure with high quality RJ45 shielded jacks.