IP Addressable Access Control (IPACC)
New Release versions of IP Readers, Scanners, Intelligent Locks utilize the ethernet as their power source.
Users can select variable feature functions to include, RFID, Bluetooth, biometrics, facial / iris detection. Access Control has become flexible, reliable and may be remotely monitored.
IP readers connect to a network switch. Pigtail wires then provide power to locks for REX buttons, control / status reporting.
Components of a manageable, centralized, scalable Access Control System. Expanding as more devices become necessary to maintain security.
Redundant power insures continued seamless operation in the event of a power loss or failure.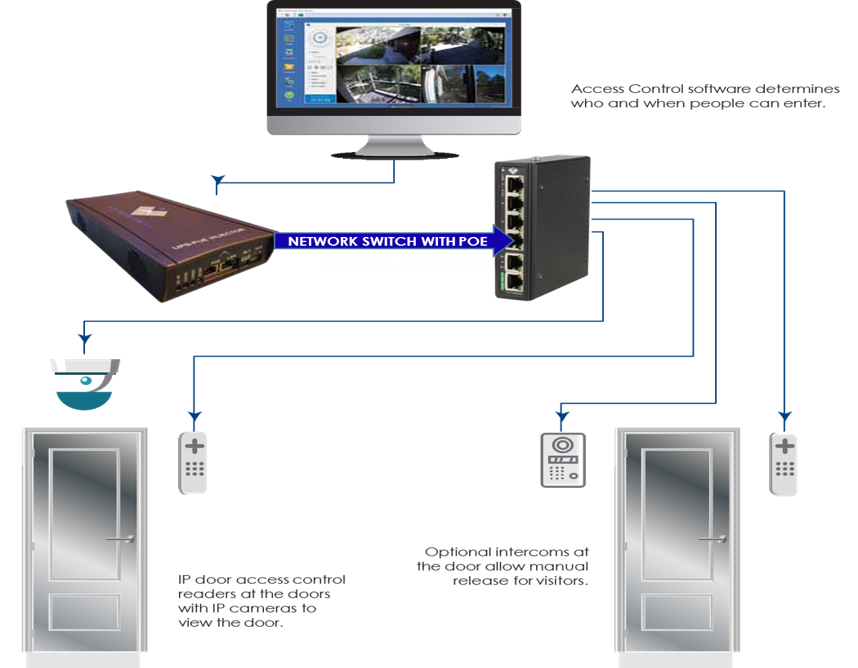 Illustration typifies the IP based system design, with PoE UPS.
Device counts and desired run-times are fully scalable.
PoE architecture designs should include constant & redundant power to ensure devices remain fully operational during extended off-grid periods.
Other components integrated with IP ACC, also gain the benefit of 'always-on' status with BTU. IP Cameras, Biometrics, Radios, Antennas, Mics, Speakers, Egress / Emergency Lighting, and IoT PoE device. (up to 240w)
IP ACC Systems often serve as perimeter security, as opposed to building entrance application. Remote view capability with hardened power considerations, assists on-site Security and or First Responders, in Step #1 of a well-structured Emergency Operations Plan (EOP): Assess and verify the threat.
BTU manufactures patented Products to serve indoor or outdoor environments.
A remotely accessible Graphic User Interface (GUI) allows the Client to distribute Ethernet-level power, to or from, a specific device / port. Maximizing available power to insure the normal operation of all systems that comprise an EOP.